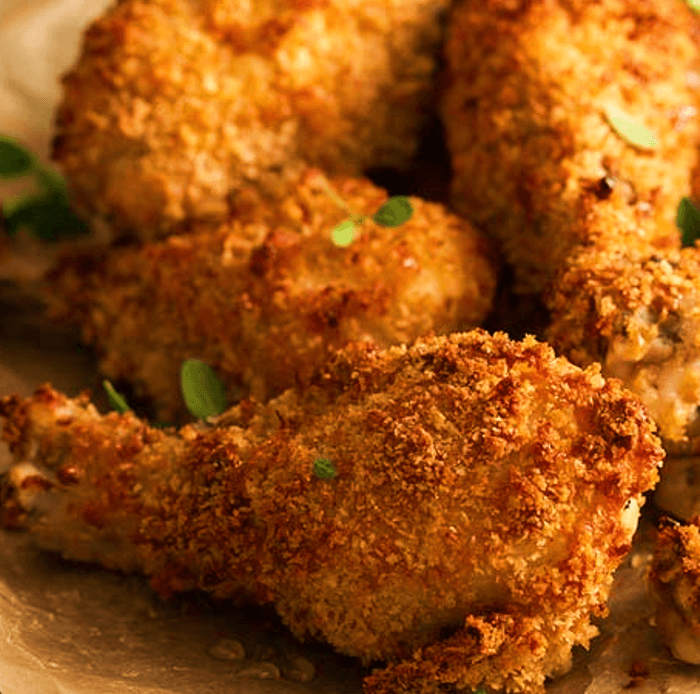 Indulge in the most mouthwatering crispy chicken drumsticks you'll ever savor! Forget complicated recipes – these drumsticks are so easy to make and offer an explosion of flavor and a delightful juicy tenderness. This recipe has perfected the art of oven-baked chicken that comes out perfectly crunchy and irresistible, leaving your guests craving seconds (and maybe even thirds!).
These drumsticks offer a good source of protein, but remember that the crispy coating on these drumsticks can add extra calories and fat, so moderation is key. To make them a healthier option, this recipe opts for baking instead of frying. This reduces the amount of saturated fat and excess calories, making it a more wholesome choice.
Pair your crispy chicken drumsticks with a variety of nutrient-rich side dishes, such as roasted vegetables, a fresh green salad, or whole-grain options like quinoa or brown rice. Balancing your meal with a mix of colorful vegetables and whole grains enhances its nutritional value.
Recipe highlights:
– No artificial ingredients
– Allergens: Contains eggs. No shellfish, dairy, nuts, soy
– Easily customizable for many diets (IBS, SIBO, low FODMAP, IBD)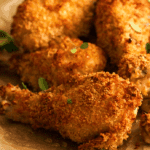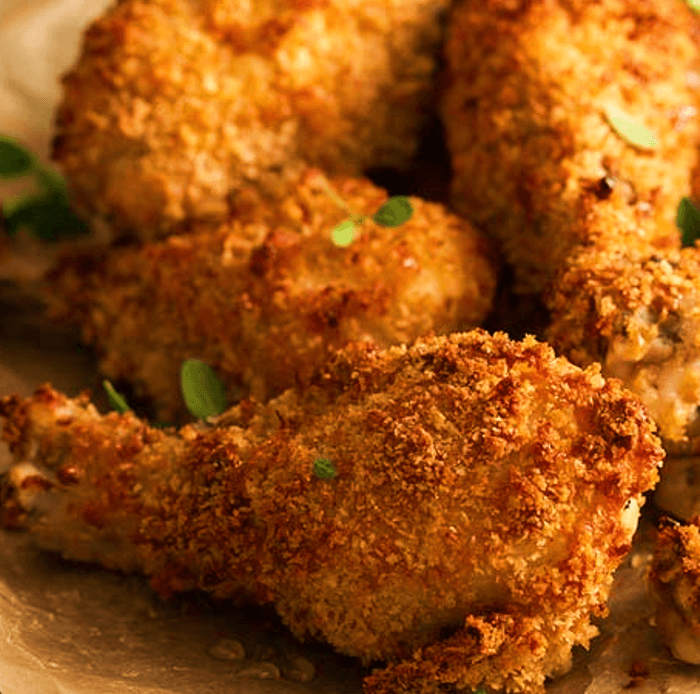 Print Recipe
Irresistible crumbed crispy chicken drumsticks
Irresistible crispy baked drumsticks, generously seasoned with an amazing spice blend
Ingredients
6

chicken drumsticks

1

cup

breadcrumbs

If gluten-free preferred, use breadcrumbs from gluten-free bread or crushed gluten-free cornflakes for extra crispiness

½

cup

all-purpose flour

for gluten-free, use rice flour, cornstarch, or potato starch

1

teaspoon

paprika

½

teaspoon

dried oregano

½

teaspoon

salt

¼

teaspoon

ground black pepper

2

large eggs

beaten

cooking oil

vegetable oil or canola oil for baking
Instructions
Preheat your oven to 200°C (390°F) and line a baking sheet with parchment paper.

In a shallow dish, combine the breadcrumbs, paprika, dried oregano, salt, and ground black pepper. Mix well to create the coating for the chicken drumsticks.

Dip each chicken drumstick into the flour, coating it evenly.

Dip each chicken drumstick into the beaten eggs, allowing any excess to drip off.

Roll the egg-coated chicken drumsticks in the seasoned breadcrumb mixture, pressing firmly to coat the chicken evenly and create a crispy coating.

Place the coated chicken drumsticks on the prepared baking sheet.

Drizzle or spray a little cooking oil over the coated drumsticks to help them brown and become crispy during baking.

Bake the chicken drumsticks in the preheated oven for about 35-40 minutes or until they are golden brown and cooked through. The internal temperature of the chicken should reach 75°C (165°F).

Once the drumsticks are cooked and crispy, remove them from the oven and let them cool slightly before serving.

Enjoy your crispy crumbed chicken drumsticks as a quick, easy, and delicious main dish or appetizer! These drumsticks go well with your favorite dipping sauce and side dishes like a fresh green salad or roasted vegetables.
Notes
Nutrition: Carbohydrates:8g; Protein:19g; Fat:10g; Saturated Fat:2g; Cholesterol:122mg; Sodium:512mg; Fiber:2g