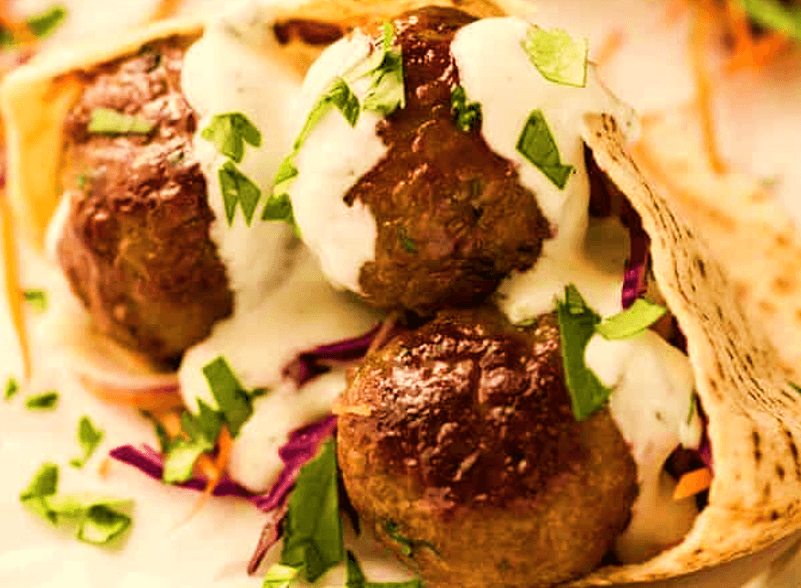 Lamb meatballs with pita and tahini is a delicious and flavorful Middle Eastern dish. It typically consists of seasoned ground lamb formed into meatballs, which are then cooked until tender and juicy. These meatballs are served inside pita bread along with a creamy tahini sauce and often accompanied by fresh vegetables for added texture and freshness. Tahini is a paste made from ground sesame seeds, and it adds a rich and nutty flavor to the dish.
Lamb meatballs with pita and tahini are often served as street food, but they can also be enjoyed as a main course with a side salad or other accompaniments. It's a flavorful and satisfying dish that offers a great blend of textures and tastes from the tender lamb, the creamy tahini, and the soft pita bread.
Recipe highlights:
– No artificial ingredients
– Allergens: No shellfish, dairy, nuts, soy, eggs
– Easily customizable for many diets (IBS, SIBO, low FODMAP, IBD)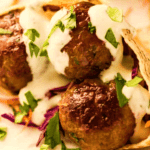 Print Recipe
Lamb meatballs with tahini
Delicious and flavorful Middle Eastern lamb meatballs recipe with tahini sauce.
Ingredients
For the meatballs:
500

g

ground lamb

½

cup

breadcrumbs

you can use breadcrumbs made from gluten-free bread if preferred

2

tablespoons

chopped fresh parsley

1

teaspoon

ground cumin

1

teaspoon

ground coriander

1/2

teaspoon

ground cinnamon

1/2

teaspoon

paprika

1/2

teaspoon

salt

1/4

teaspoon

ground black pepper
For the tahini sauce:
¼

cup

tahini

for low FODMAP, ensure no garlic or onion added

2

tablespoons

water

2

tablespoons

lemon juice

salt to taste
For serving:
Pita bread

look for a gluten-free or low FODMAP option if preferred

Fresh lettuce leaves

Sliced cucumber
Instructions
Preheat your oven to 200°C (390°F).

In a large mixing bowl, combine the ground lamb, breadcrumbs, chopped parsley, ground cumin, ground coriander, ground cinnamon, paprika, salt, and ground black pepper. Mix everything together until well combined.

Shape the mixture into small meatballs, about the size of a walnut, and place them on a baking tray lined with parchment paper.

Bake the meatballs in the preheated oven for about 15-20 minutes or until they are cooked through and lightly browned.

While the meatballs are baking, prepare the tahini sauce. In a small bowl, whisk together the tahini, lemon juice, water and a pinch of salt. Adjust the consistency by adding more water if needed.

To serve, warm the pita bread, then open the pita bread pockets and stuff them with a few lettuce leaves, cucumber slices, and several lamb meatballs. Drizzle the tahini sauce over the meatballs and enjoy!
Notes
Nutrition: Carbohydrates:41g; Protein:27g; Fat:25g; Saturated Fat:11g; Polyunsaturated Fat:3g; Monounsaturated Fat:10g; Cholesterol:114mg; Sodium:932mg; Fiber:4g