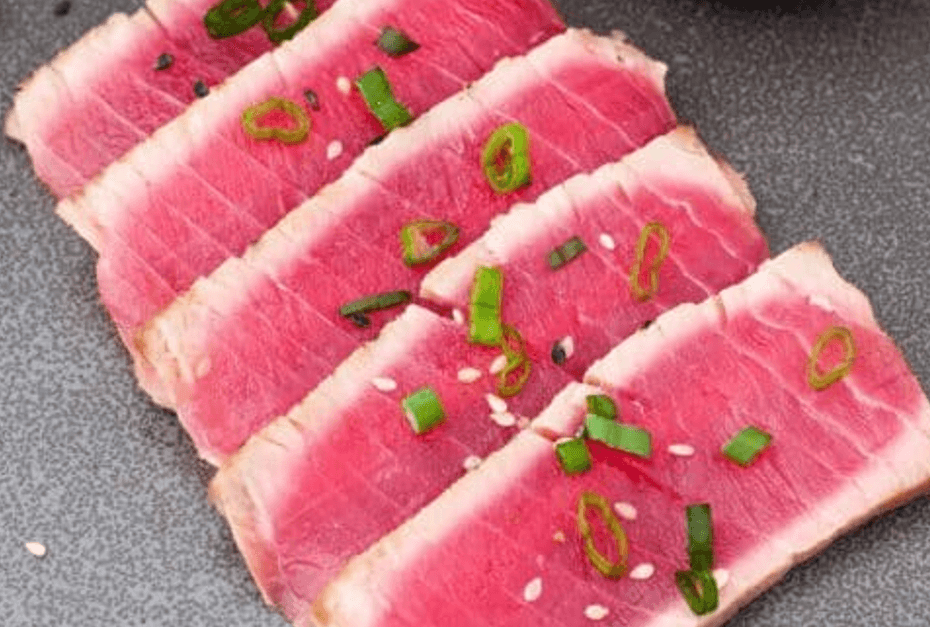 – No artificial ingredients
– Allergens: No shellfish, dairy, nuts, soy, eggs
– Low sodium
– IBS, SIBO and low FODMAP friendly (no garlic, onion or other high FODMAPs)
All our recipes use fresh ingredients, no artificial flavoring and we limit the use of off-the-shelf sauces or spice mixes. If opting for a pre-made sauce or spice mix, make sure to read the label and understand all the ingredients.
This seared tuna recipe is a delicious dish made by quickly cooking fresh tuna steaks on high heat. The outer layer of the tuna develops a caramelized crust while the inside remains tender and rare. It brings out the natural flavors of the fish and creates a contrast in texture. Simple seasonings like soy sauce, herbs, and citrus juices can be used to enhance the taste.
This seared tuna recipe is quick and easy to prepare, making it a convenient option for a healthy meal. It can be cooked to various degrees of doneness, allowing for customization based on personal preference. This dish also provides a significant amount of protein while being relatively low in fat. Seared tuna is typically served sliced and can be enjoyed on its own or paired with sides like salads, rice, or vegetables.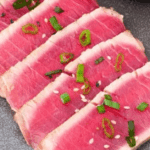 Print Recipe
Brilliant simple seared tuna
Fresh tuna steaks quickly cooked on high heat, with flavorful and tender interior and a seared crust on the outside
Ingredients
2

tuna steaks

about 6-8 ounces each

2

tablespoons

soy sauce

1

tablespoon

olive oil

salt and pepper to taste

green onions for garnish

optional
Instructions
Season the tuna steaks with salt and pepper on both sides.

In a shallow dish, pour the soy sauce and olive oil. Mix well.

Place the tuna steaks in the dish, coating them with the soy sauce and olive oil mixture. Let them marinate for about 10 minutes.

Heat a skillet or frying pan over medium-high heat.

Once the pan is hot, carefully place the tuna steaks in the pan. Sear each side for about 1-2 minutes, depending on your preferred level of doneness. For rare tuna, aim for a shorter cooking time. If you prefer it more well-done, you can cook it for a bit longer.

Once seared, remove the tuna steaks from the pan and let them rest for a couple of minutes.

Slice the tuna steaks into thin pieces. Serve the seared tuna slices on a plate. You can enjoy them as is or pair them with a side of steamed vegetables or a simple green salad.
Notes
Nutrition: Carbohydrates:0.6g; Protein:22.1g; Fat:17g; Saturated Fat:3g; Cholesterol:33.5mg; Sodium:323.3mg; Fiber:0.3g
The Candor website is written and produced for informational purposes only. While we do our best to provide nutritional information as a general guideline to our readers, we are not certified nutritionists, and the values provided should be considered estimates. Factors such as brands purchased, natural variations in fresh ingredients, etc. will change the nutritional information in any recipe. Various online calculators also provide different results, depending on their sources. To obtain accurate nutritional information for a recipe, use your preferred nutrition calculator to determine nutritional information with the actual ingredients and quantities used.