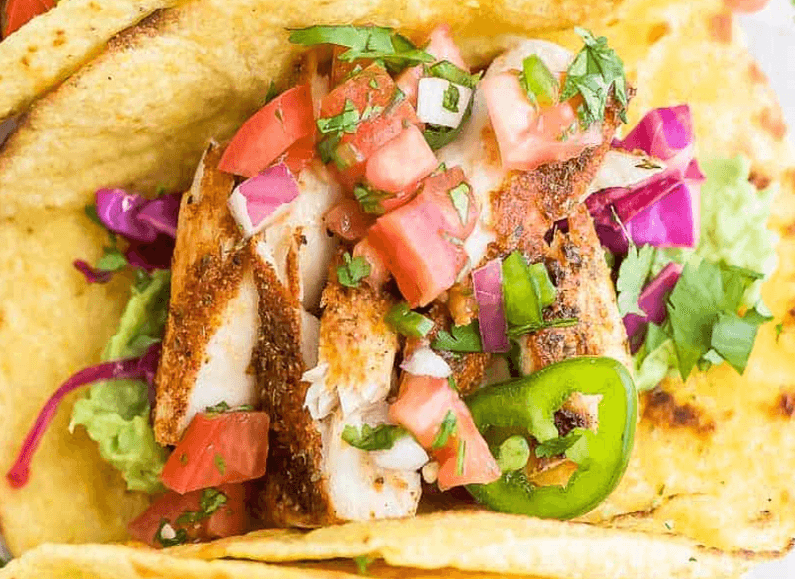 – IBS, SIBO and low FODMAP friendly (no garlic, onion or other high FODMAPs)
– No artificial ingredients
– Allergens: No dairy, nuts, soy, shellfish, eggs
– Low sodium
All our recipes use fresh ingredients, no artificial flavoring and we limit the use of off-the-shelf sauces or spice mixes. If opting for a pre-made sauce or spice mix, make sure to read the label and understand all the ingredients. Check out our recipes page for more ideas.
Mahi Mahi, also called dorado or dolphin fish (not to be confused with dolphins), is commonly used in various culinary preparations, including tacos.
To make Mahi Mahi tacos, the fish is typically seasoned or marinated and then cooked to perfection. It is often grilled, pan-seared, or blackened to enhance its flavor. Once cooked, the Mahi Mahi is flaked into smaller pieces and used as the filling for the tacos.
The tacos themselves are usually made with corn tortillas, although flour tortillas can be used as well. The Mahi Mahi is placed inside the tortillas, and the tacos are then topped with various ingredients to add flavor and texture. Common toppings for Mahi Mahi tacos include shredded lettuce, diced tomatoes, onions, cilantro, avocado slices or guacamole, and a squeeze of lime juice. Some people also add salsa, hot sauce, or a creamy sauce such as chipotle mayo or lime crema.
Mahi Mahi tacos are known for their fresh and vibrant flavors, combining the delicate taste of the fish with the complementary ingredients. They are often served as a popular seafood option in many coastal regions and are enjoyed for their lightness and versatility.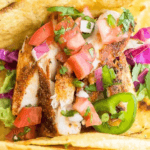 Print Recipe
Quick and easy Mahi Mahi fish tacos
Mahi Mahi tacos are known for their fresh and vibrant flavors, combining the delicate taste of the fish with the complementary ingredients.
Ingredients
4

mahi mahi fillets

corn tortillas

check the ingredients for no high-FODMAP additives

1

tablespoon

olive oil

1

teaspoon

cumin

1

teaspoon

paprika

salt and pepper to taste

purple cabbage or lettuce

watch quantity for low FODMAP

jalapenos, lime wedge or fresh cilantro for garnish

optional

1

avocado, mashed

optional, watch quantity for low FODMAP
Instructions
Preheat your stovetop grill pan to medium-high heat.

In a small bowl, mix the oil, cumin, paprika, salt, and pepper to create a marinade.

Pat the mahi mahi fillets dry and brush both sides with the marinade.

Grill the fish for about 3-4 minutes on each side, or until it flakes easily with a fork. Cooking time may vary depending on the thickness of the fillets.

Remove the fish from the grill and let it rest for a few minutes. Then, flake it into bite-sized pieces with a fork.

Warm the corn tortillas on the grill for a minute on each side until they are pliable.

Assemble the tacos by placing a portion of the flaked mahi mahi on each tortilla. Top with purple cabbage or shredded lettuce, mashed avocado if using, and garnish with fresh cilantro and jalapeno if using.

Serve the tacos with lime wedges on the side for squeezing over the top.
Notes
Nutrition: Carbohydrates:19g; Protein:14g; Fat:17g; Saturated Fat:3.2g; Cholesterol: 59mg; Sodium:345mg; Fiber:1.7g
The Candor website is written and produced for informational purposes only. While we do our best to provide nutritional information as a general guideline to our readers, we are not certified nutritionists, and the values provided should be considered estimates. Factors such as brands purchased, natural variations in fresh ingredients, etc. will change the nutritional information in any recipe. Various online calculators also provide different results, depending on their sources. To obtain accurate nutritional information for a recipe, use your preferred nutrition calculator to determine nutritional information with the actual ingredients and quantities used.