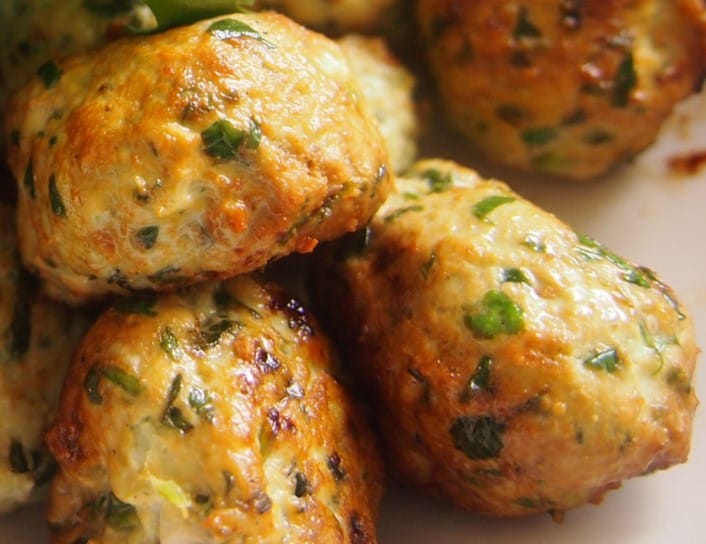 – IBS, SIBO and low FODMAP friendly (no garlic, onion or other high FODMAPs)
– No artificial ingredients
– Allergens: No dairy, nuts, soy, shellfish, eggs
– Low sodium
All our recipes use fresh ingredients, no artificial flavoring and we limit the use of off-the-shelf sauces or spice mixes. If opting for a pre-made sauce or spice mix, make sure to read the label and understand all the ingredients. Check out our recipes page for more ideas.
Spinach chicken meatballs are a delicious and healthy alternative to traditional meatballs. They are made by combining ground chicken with chopped spinach and various seasonings. The mixture is then shaped into small meatballs and cooked until they are golden brown and cooked through. This recipe has simple healthy ingredients and is easy to prep and make. It is a great choice for anyone following a low FODMAP diet or wanting a quick to make flavorful dish that is easy on the gut. These meatballs are versatile and can be enjoyed as an appetizer, paired with a side salad, or served with a gluten-free pasta and a suitable sauce.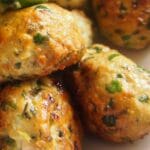 Print Recipe
Spinach chicken meatballs
Healthier alternative to traditional meatballs, as they often contain less fat and are packed with nutrients from the spinach.
Ingredients
1

pound

ground chicken

1

cup

spinach finely chopped

2

green onions, green parts only, finely chopped

2

tablespoons

olive oil

½

teaspoon

dried oregano

½

teaspoon

dried basil

salt and pepper to taste
Instructions
Preheat the oven to 375°F (190°C). Line a baking sheet with parchment paper or lightly grease it with olive oil.

In a large mixing bowl, combine the ground chicken, chopped spinach, green onions, olive oil, dried oregano, dried basil, salt, and pepper. Mix well until all the ingredients are evenly distributed.

Take about 1-2 tablespoons of the mixture and roll it into a meatball shape using your hands. Place the meatballs onto the prepared baking sheet. Repeat this process until all the mixture is used up.

Drizzle a little olive oil over the meatballs to help them brown and prevent sticking.

Bake the meatballs in the preheated oven for about 15 minutes or until cooked through and lightly browned on the outside.

Once cooked, remove the meatballs from the oven and let them cool for a few minutes before serving. Enjoy as an appetizer, pair with a side salad, or serve with a gluten-free pasta and a suitable sauce.
Notes
Nutrition: Carbohydrates:6g; Protein:27g; Fat:8g; Saturated Fat:0.8g; Cholesterol: 92mg; Sodium:415mg; Fiber:1.6g
The Candor website is written and produced for informational purposes only. While we do our best to provide nutritional information as a general guideline to our readers, we are not certified nutritionists, and the values provided should be considered estimates. Factors such as brands purchased, natural variations in fresh ingredients, etc. will change the nutritional information in any recipe. Various online calculators also provide different results, depending on their sources. To obtain accurate nutritional information for a recipe, use your preferred nutrition calculator to determine nutritional information with the actual ingredients and quantities used.