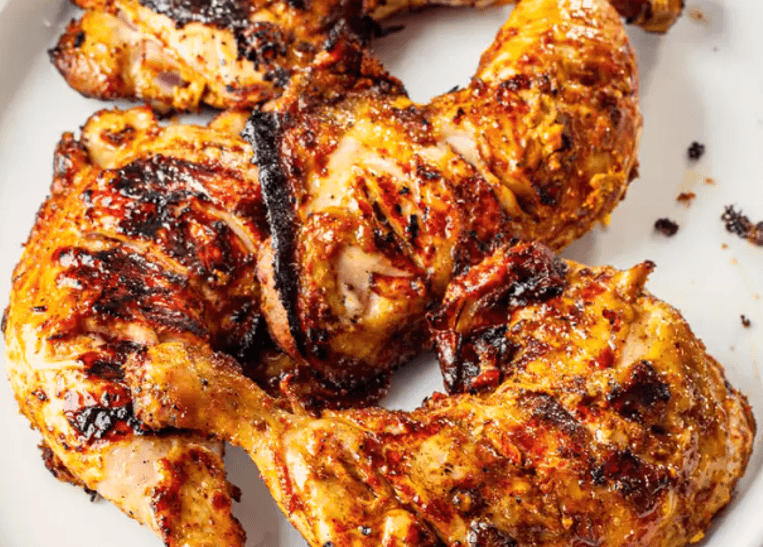 – IBS, SIBO and low FODMAP friendly (no garlic, onion or other high FODMAPs)
– No artificial ingredients
– Allergens: Contains Dairy. No nuts, soy, shellfish, eggs
– Low sodium
All our recipes use fresh ingredients, no artificial flavoring and we limit the use of off-the-shelf sauces or spice mixes. If opting for a pre-made sauce or spice mix, make sure to read the label and understand all the ingredients. Check out our recipes page for more ideas.
Tandoori chicken is a popular Indian dish that is marinated in yogurt and seasoned with a variety of spices, including turmeric, cumin, coriander, ginger, and garlic (avoid for low FODMAP option). The marinated chicken is traditionally cooked in a clay oven called a tandoor, which gives the dish its name.
The process of making tandoori chicken involves coating the chicken pieces in a mixture of yogurt and spices, allowing them to marinate for several hours or overnight. This allows the flavors to penetrate the meat and tenderize it. The yogurt also helps to keep the chicken moist during the cooking process.
Tandoori chicken is typically served hot and is often garnished with fresh coriander leaves and served with a side of mint chutney or raita (yogurt-based sauce). It is a popular dish in Indian cuisine and is enjoyed both as a main course or as a starter/appetizer.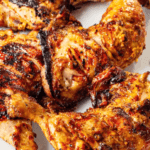 Print Recipe
Easy tandoor chicken
Tandoori chicken is a popular Indian dish that is marinated in yogurt and a blend of spices
Ingredients
4

skinless chicken leg quarters

1

cup

yogurt

use dairy-free if better tolerated

2

tablespoons

olive oil

1

tablespoon

ground cumin

1

tablespoon

ground coriander

1

tablespoon

ground paprika

1

teaspoon

ground turmeric

1

teaspoon

ground ginger

1

teaspoon

ground cinnamon

1

tablespoon

garam masala (optional)

1

teaspoon

salt

1

tablespoon

lemon juice

fresh cilantro chopped (optional)
Instructions
In a mixing bowl, whisk together the yogurt (dairy-free if better tolerated), olive oil, cumin, coriander, paprika, turmeric, ginger, cinnamon, salt, and lemon juice.

Make cuts in 3-4 places on the leg/thigh pieces. Coat the chicken in the marinade, cover and refrigerate for at least 2 hours or overnight for best results.

Preheat oven using broil setting for 10 minutes.

Place the chicken pieces on a baking sheet. Broil the chicken for about 15 minutes, or until the chicken has a charred and slightly crispy exterior. Flip the chicken halfway through the cooking time to ensure even cooking and browning.

Change the oven setting to bake at 350F. Cook for another 5-10 minutes or until chicken is cooked through.

Once cooked, remove the chicken from the oven and let it rest for a few minutes. Serve the chicken hot, garnished with fresh cilantro (if desired). Enjoy your delicious tandoori chicken with rice or naan bread.
Notes
Nutrition: Carbohydrates:7.1g; Protein:29g; Fat:11g; Saturated Fat:3.7g; Cholesterol: 119mg; Sodium:142mg; Fiber:0.7g
The Candor website is written and produced for informational purposes only. While we do our best to provide nutritional information as a general guideline to our readers, we are not certified nutritionists, and the values provided should be considered estimates. Factors such as brands purchased, natural variations in fresh ingredients, etc. will change the nutritional information in any recipe. Various online calculators also provide different results, depending on their sources. To obtain accurate nutritional information for a recipe, use your preferred nutrition calculator to determine nutritional information with the actual ingredients and quantities used.