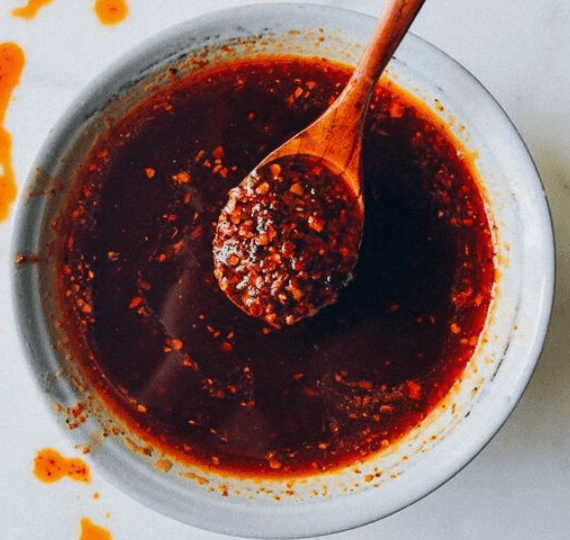 – IBS, SIBO and low FODMAP friendly (no garlic, onion or other high FODMAPs)
– No artificial ingredients
– Allergens: No dairy, nuts, soy, shellfish, eggs
– Low sodium
All our recipes use fresh ingredients, no artificial flavoring and we limit the use of off-the-shelf sauces or spice mixes. If opting for a pre-made sauce or spice mix, make sure to read the label and understand all the ingredients.
Chili oil is versatile and can be used in various dishes to add flavor, spice, and depth. You can add a drizzle of chili oil to stir-fried vegetables, meats, or tofu to give them a spicy kick and enhance the overall flavor of the dish. You can also toss cooked noodles with chili oil for a simple and flavorful sauce. It works well with both Asian-style noodles like soba, udon, or rice noodles, as well as Italian pasta.
Incorporate chili oil into marinades for meats, poultry, or seafood to infuse them with spice and flavor. You can also mix it with other ingredients like vinegar, soy sauce, or citrus juice to create zesty dressings for salads or dipping sauces. Try blending chili oil with other ingredients such as soy sauce, ginger, garlic, and sesame oil to create delicious dipping sauces for dumplings, spring rolls, or grilled foods.
You can adjust the heat level of the chili oil by adding more or less chili flakes. You can also customize the flavor by adding other spices or aromatics, such as ginger or scallions (if tolerated). This low FODMAP chili oil is great for drizzling over noodles, stir-fries, soups, or any dish that could use a little extra flavor and heat. Enjoy!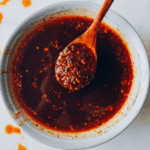 Print Recipe
Homemade chili oil
Easy homemade chili oil recipe to add heat to your dishes.
Ingredients
1

cup

olive oil or other low FODMAP oil

2

tablespoon

dried chili flakes

2

teaspoon

ground cumin

1

teaspoon

paprika

salt

to taste
Instructions
In a small saucepan, heat the oil over low heat until it reaches around 180°F.

Remove from heat and let the oil cool for 1-2 minutes.

In a heat-proof bowl, mix together the dried chili flakes, ground cumin, paprika, and salt.

Add the hot oil to the bowl and stir to combine.

Let the chili oil cool to room temperature, then transfer it to a clean, airtight jar.

Store the chili oil in the fridge for up to 1 month.
Notes
Nutrition: Carbohydrates:1g; Protein:0g; Fat:7g; Saturated Fat:1g; Cholesterol: 39mg; Sodium:45mg; Fiber:0g
The Candor website is written and produced for informational purposes only. While we do our best to provide nutritional information as a general guideline to our readers, we are not certified nutritionists, and the values provided should be considered estimates. Factors such as brands purchased, natural variations in fresh ingredients, etc. will change the nutritional information in any recipe. Various online calculators also provide different results, depending on their sources. To obtain accurate nutritional information for a recipe, use your preferred nutrition calculator to determine nutritional information with the actual ingredients and quantities used.