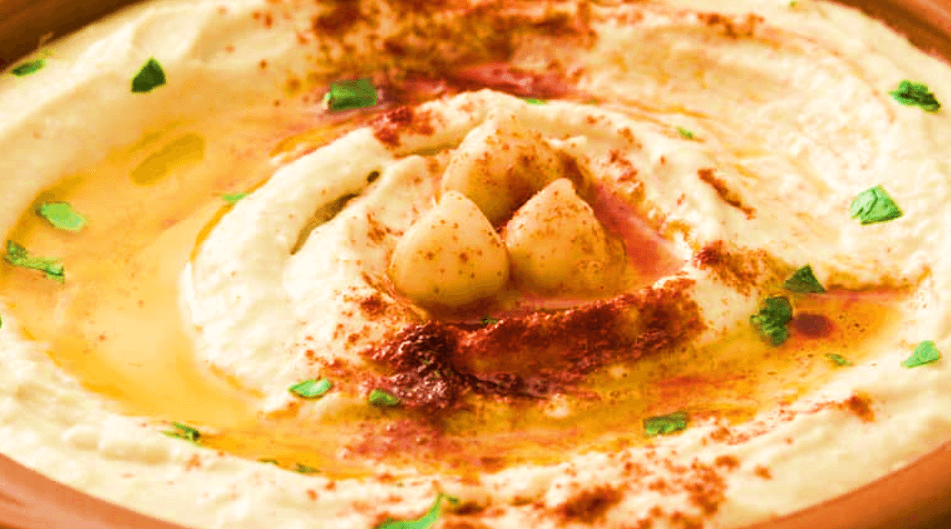 Hummus, derived from the Arabic word for "chickpeas," is a simple yet ingenious creation. Created by blending chickpeas, tahini, lemon, olive oil, and a hint of garlic, this dish stands out as a pantry essential – perfect for unexpected visitors or late-night cravings. Its smooth texture sets it apart from store-bought versions, which can be heavy and tangy.
The origins of hummus trace back centuries, rooted in the culinary traditions of the Middle East. In the past, hummus was prepared through labor-intensive methods of hand-mashing chickpeas and grinding sesame seeds. Over time, technological advancements introduced food processors that streamlined the preparation process, making hummus more accessible and convenient.
Traditionally, hummus was a staple food in the Middle East, enjoyed as a nutritious and filling dish. It was often served in mezze spreads, which are assortments of small dishes, and accompanied by pita bread or other flatbreads for dipping. Its popularity gradually spread beyond the Middle East, gaining recognition and appreciation on a global scale.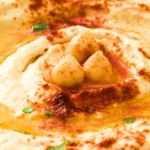 Print Recipe
Hummus (quick and easy recipe!)
Delicious Middle-eastern dip made from chickpeas and tahini.
Ingredients
1

can

15 oz of canned chickpeas (garbanzo beans), drained and rinsed

2

tablespoons

tahini

3

tablespoons

olive oil

2

tablespoons

freshly squeezed lemon juice

1

teaspoon

garlic-infused olive oil

for flavor

salt and pepper to taste

½

teaspoon

ground cumin

optional

sumac to taste

optional

chopped fresh herbs (such as parsley or chives) for garnish

optional

paprika for garnish

optional
Instructions
Place the chickpeas, tahini, olive oil, lemon juice, and garlic-infused olive oil in a food processor. If using ground cumin, add it to the food processor.

Blend the mixture until smooth, scraping down the sides of the bowl as needed. If the mixture is too thick, you can add a little water or more olive oil to achieve your desired consistency.

Season with salt and pepper to taste. Blend again to incorporate the seasoning.

Taste and adjust the flavor by adding more lemon juice, salt, or pepper if needed.

Once the hummus reaches your desired consistency and flavor, scoop the hummus into a serving bowl and generously drizzle it with olive oil.

If you prefer, scatter a handful of chickpeas in the center. If using sumac, finish by sprinkling sumac over the top for an extra burst of flavor. Garnish with chopped fresh herbs and paprika, if using.
Notes
Nutrition: Carbohydrates: 12g; Protein: 4g; Fat: 9g; Saturated fat: 1g; Sodium: 148mg; Fiber: 3g