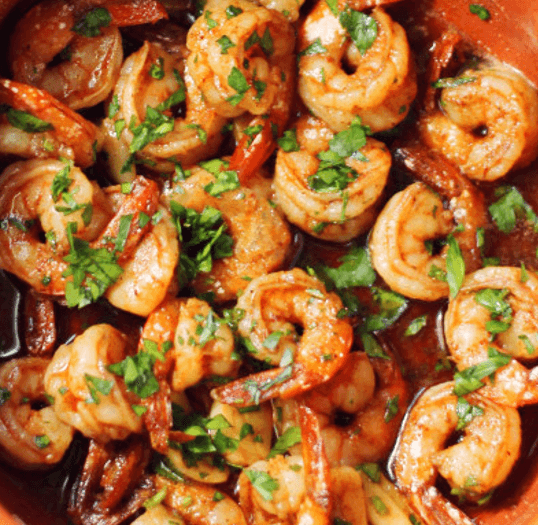 – IBS, SIBO and low FODMAP friendly (no garlic, onion or other high FODMAPs)
– No artificial ingredients
– Allergens: Contains shrimp. No dairy, nuts, soy, eggs
– Low sodium
All our recipes use fresh ingredients, no artificial flavoring and we limit the use of off-the-shelf sauces or spice mixes. If opting for a pre-made sauce or spice mix, make sure to read the label and understand all the ingredients.
This low FODMAP shrimp in chili oil is ridiculously easy, quick and simple. It is a popular dish in Asian cuisines such as Chinese and Thai. The combination of succulent shrimp and spicy chili oil creates a flavorful and appetizing dish that many people enjoy. It is often served as a standalone appetizer or incorporated into stir-fries, noodle dishes, or rice dishes. The heat from the chili oil complements the natural sweetness of the shrimp, making it a delicious and satisfying option for seafood lovers. Shrimp is also a low-calorie and low-fat source of protein. It is also rich in vitamins and minerals such as selenium, vitamin B12, and iodine.
Use chili oil as a condiment on the table, allowing individuals to add it to their own dishes according to their preference. It can be a delicious addition to rice, steamed vegetables, grilled meats, or even eggs. Check out our recipe for low FODMAP chili oil – it can be stored in the fridge for up to a month.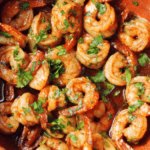 Print Recipe
Shrimp in chili oil
Delicious, quick and easy shrimp dish with bold flavors.
Ingredients
1

pound

shrimp, peeled and deveined

¼

cup

garlic-infused olive oil

1

tablespoon

chili flakes or chili powder

½

teaspoon

paprika

½

teaspoon

cumin

½

teaspoon

salt

freshly ground black pepper to taste

optional

fresh parsley or green onions, green part only

for garnish
Instructions
In a bowl, combine the garlic-infused olive oil, chili flakes or chili powder, paprika, cumin and salt. Add black pepper if using. Mix well to create the chili oil marinade.

Place the shrimp in a separate bowl and pour the chili oil marinade over them. Toss to coat the shrimp evenly. Let them marinate for 15-20 minutes.

Heat a large skillet or pan over medium-high heat. Add the marinated shrimp and cook for 1-2 minutes per side, or until they turn pink and opaque. Be careful not to overcook them.

Once cooked, remove the shrimp from the heat and transfer them to a serving dish. Garnish with fresh parsley or green onions (green part only) for added flavor and presentation.
Notes
Nutrition: Carbohydrates:5g; Protein:22.1g; Fat:17g; Saturated Fat:3g; Cholesterol: 88.5mg; Sodium:763.3mg; Fiber:1.3g
The Candor website is written and produced for informational purposes only. While we do our best to provide nutritional information as a general guideline to our readers, we are not certified nutritionists, and the values provided should be considered estimates. Factors such as brands purchased, natural variations in fresh ingredients, etc. will change the nutritional information in any recipe. Various online calculators also provide different results, depending on their sources. To obtain accurate nutritional information for a recipe, use your preferred nutrition calculator to determine nutritional information with the actual ingredients and quantities used.