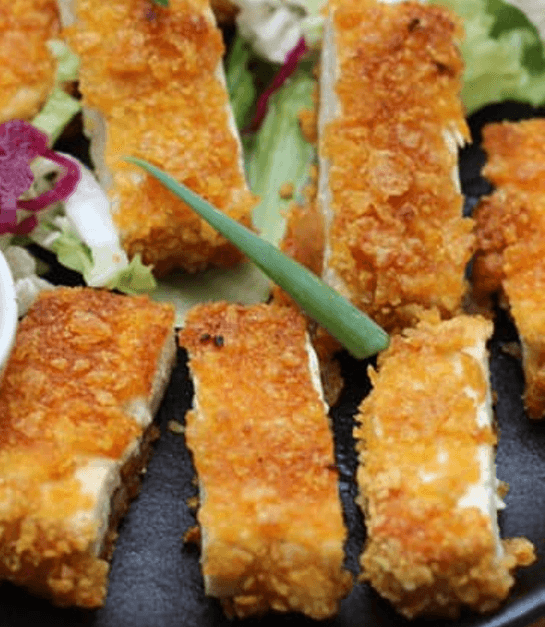 This tofu katsu recipe is a vegetarian or vegan variation of the traditional Japanese dish, katsu. Instead of using meat, tofu is used as the main ingredient. Tofu katsu follows a similar preparation method to other katsu dishes, where the tofu is breaded and deep-fried until crispy. The result is a delicious and crunchy exterior with a tender and flavorful tofu interior. This recipe is easily customizable for low FODMAP, IBS or IBD diets, and can easily be made gluten-free as well.
Tofu katsu can be served in various ways, similar to other katsu dishes. It is often paired with a dipping sauce, such as a tangy tonkatsu sauce or a flavorful vegan-friendly dipping sauce. Additionally, it can be served with rice, shredded cabbage, or in sandwiches to create a satisfying meal. This recipe is an excellent option for vegetarians, vegans, or anyone looking for a meatless alternative to traditional katsu dishes, and offers a delightful and nutritious twist on the classic Japanese comfort food.
Recipe highlights:
– No artificial ingredients
– Allergens: No shellfish, dairy, nuts, soy, eggs
– Easily customizable for many diets (IBS, SIBO, low FODMAP, IBD)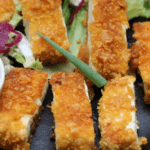 Print Recipe
Tofu katsu (Japanese breaded tofu)
Great vegan variation of the traditional Japanese dish katsu.
Ingredients
1

block of firm tofu

drained and pressed

⅓

cup

all-purpose flour

use gluten-free if preferred

2

large eggs

or egg substitute for a vegan option

1

cup

breadcrumbs

use gluten-free if preferred

⅓

teaspoon

paprika

salt and pepper to taste

vegetable oil for frying
Instructions
Prepare the tofu: Slice the tofu block into even pieces, about 1/2 inch thick. Pat them dry with paper towels and season with a little salt and pepper.

Set up the breading station: In three separate shallow dishes, place the four in one, whisk the eggs in another, and combine the breadcrumbs with paprika, salt, and pepper in the third.

Coat the tofu: Dip each tofu slice first into the flour, shaking off any excess. Then dip it into the whisked eggs, allowing any excess to drip off. Finally, coat the tofu with the seasoned breadcrumbs, pressing gently to make sure they adhere well.

Fry the tofu: In a large skillet, heat enough vegetable oil over medium-high heat to cover the bottom of the pan. Once the oil is hot, add the breaded tofu slices in batches and fry until they are golden brown and crispy on each side. This should take about 2-3 minutes per side. Make sure not to overcrowd the pan to ensure even frying.

Drain and serve: Once the tofu katsu is done, remove them from the pan and place them on a plate lined with paper towels to drain any excess oil. Enjoy with your favorite dipping sauce or a salad!
Notes
Nutrition: Carbohydrates: 34g; Protein: 14g; Fat: 7g; Saturated fat: 1g; Sodium: 654mg; Fiber: 2g