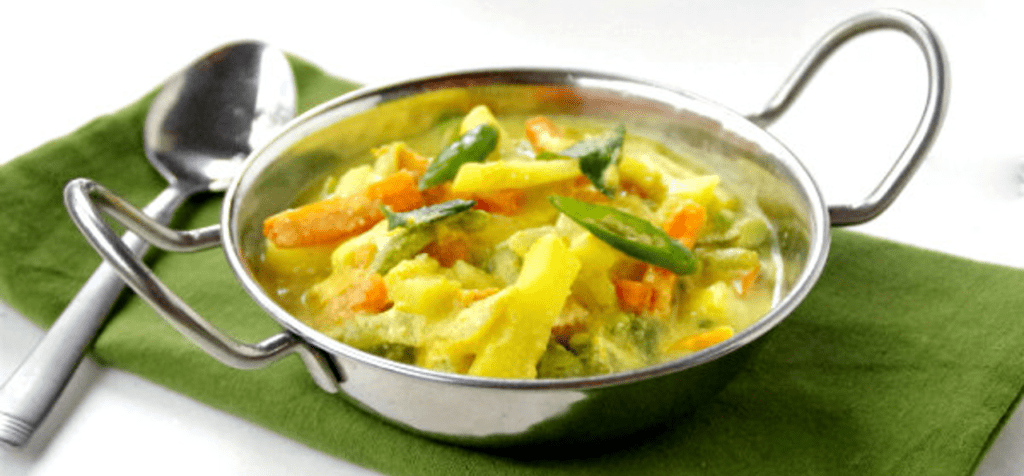 – Low FODMAP recipe (no garlic, onion or other high FODMAPs)
– IBS friendly
– No artificial ingredients
– Allergens: Contains dairy. No nuts, soy, shellfish, eggs
– Low sodium
All our recipes use fresh ingredients, no artificial flavoring and we limit the use of off-the-shelf sauces or spice mixes. If opting for a pre-made sauce or spice mix, make sure to read the label and understand all the ingredients.
Avial is a popular and traditional South Indian dish made with mixed vegetables, coconut, yogurt and curry leaves. It is a vegetarian dish and is usually served as a side dish with rice or roti. The vegetables used in avial can vary depending on the region and season but commonly include carrots, beans, potatoes, pumpkin, and drumsticks. The vegetables are cooked in a coconut and yogurt sauce with spices such as mustard seeds, cumin seeds, and green chilies. Avial is known for its creamy texture and delicious flavor, and it is a healthy and nutritious dish due to the use of mixed vegetables and yogurt.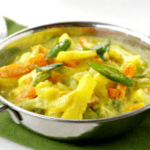 Print Recipe
South Indian vegetable stew (Avial)
Avial is a delicious South Indian dish made with mixed vegetables, coconut, yogurt and curry leaves.
Ingredients
1

cup

mixed low FODMAP vegetables (such as carrots, green beans, zucchini, bell peppers, eggplant)

½

cup

grated coconut

½

cup

lactose-free yogurt

¼

tsp

turmeric powder

¼

tsp

cumin seeds

¼

tsp

mustard seeds

2-3

green chilies chopped (or substitute with chili flakes)

2-3

sprigs of curry leaves

1

tablespoon

coconut oil

salt to taste
Instructions
Cut the low FODMAP vegetables into long thin strips or pieces.

Boil the vegetables with salt and turmeric powder until they are cooked but still firm. Drain the water and keep the vegetables aside.

Grind the grated coconut, cumin seeds, and green chilies (or chili flakes/hot sauce) together to a fine paste.

Heat coconut oil in a pan and add mustard seeds. When they start to splutter, add curry leaves and sauté for a few seconds.

Add the boiled low FODMAP vegetables to the pan and mix well.

Add the ground coconut paste and mix again. Cook for 2-3 minutes on low heat.

Beat the lactose-free yogurt well and add it to the pan. Mix well and cook for another 2-3 minutes.

Adjust the seasoning and serve hot with low FODMAP rice or roti.