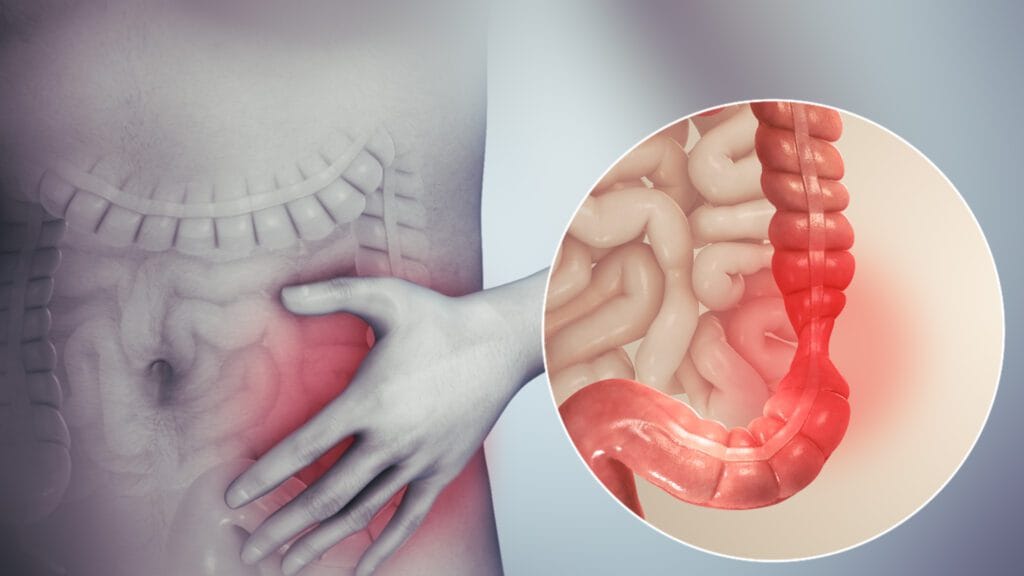 If you have been recently diagnosed with IBS, here's everything you need to know about symptoms and potential triggers for the condition. In a gist, IBS is a chronic condition that can be controlled, but not cured.
Irritable bowel syndrome (IBS) causes digestive, abdominal discomfort and/or changes in the pattern of bowel movements without any evidence of underlying damage. IBS sufferers will have a group of symptoms, but tests won't show any physical explanation for those problems. IBS has evolved into a very common gastrointestinal disorder that affects 1 in 7 people. The causes are not well understood, and it is diagnosed based on ruling out other conditions with similar symptoms. Diet and lifestyle modifications are the best option at present, and some medications may help as well. IBS is a chronic condition that can be controlled, but not cured.
At its core, IBS causes irritation because it affects the function and behavior of the intestines. Normally, the muscles lining the intestines contract and relax to move food along the digestive tract. In IBS, this pattern is disturbed, resulting in uncomfortable symptoms. In addition, there can be a disturbance in sensation, with heightened sensitivity to normal gas or stool passing through the GI tract.
IBS symptoms
IBS symptoms may occur over a long time, often years
Classic symptoms such as abdominal pain and abnormal bowel habits may be accompanied by abdominal bloating
Increase in abdominal girth (distension), excessive gas
Urgency to defecate
Fatigue
Symptoms usually are experienced as acute attacks that subside within one day, but recurrent attacks are likely
There may also be urgency for bowel movements, a feeling of incomplete evacuation (tenesmus)
It is common for the symptoms of IBS to fluctuate over time, and symptoms can vary greatly between individuals and they might vary over time
Diagnosis is based on symptoms in the absence of worrisome features and once other potential conditions have been ruled out.
Prevalence
1. About 2 in 3 IBS sufferers are female. About 1 in 3 IBS sufferers are male. IBS affects people of all ages, even children.
2. Worldwide it's estimated that 10-15% of the population has IBS.
3. Most persons with IBS are under the age of 50.
4. Approximately 20 to 40% of all visits to gastroenterologists are due to IBS symptoms.
5. Diagnosis of IBS was typically made 6.6 years after the symptoms began. (based on IFFGD survey)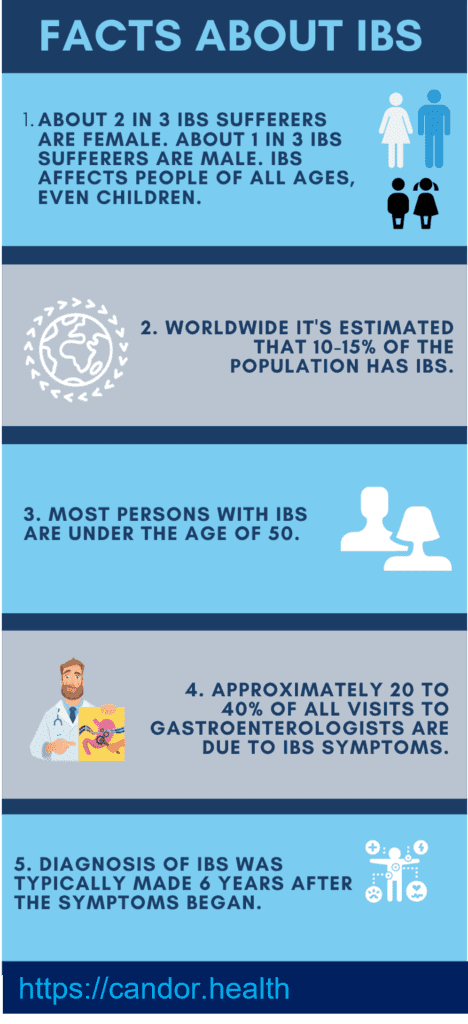 Types of IBS
IBS can be classified as:
diarrhea-predominant (IBS-D)
constipation-predominant (IBS-C)
with mixed/alternating stool pattern (IBS-M/IBS-A)
pain-predominant
In some individuals, IBS may have an acute onset and develop after an infectious illness characterized by two or more of: fever, vomiting, diarrhea, or positive stool culture. This post-infective syndrome has consequently been termed "post-infectious IBS" (IBS-PI).
Triggers
While the causes of IBS are still unknown, it is believed that the entire gut–brain axis is affected. Recent findings suggest that an allergy triggered peripheral immune mechanism may underlie the symptoms associated with abdominal pain in patients with irritable bowel syndrome. IBS is more prevalent in obese patients.
Causes and risk factors
Potential causes may include sensitivity of the GI tract to gas and bloating, changes in the microbiome (organisms in the gut), or changes in the levels of specific compounds or chemicals within the body, such as serotonin – a chemical in the body that helps regulate mood and social behavior. Although stress does not cause IBS, many people with IBS notice that stress does aggravate their symptoms. Having IBD or a recent GI tract infection (like gastroenteritis) can increase the risk for developing IBS. IBS does not have clear causes, but a number of factors are thought to play a role.
Acute GI infection – Approximately 20-30% of IBS cases are triggered by an acute gastroenteritis infection. Additional risk factors are young age, prolonged fever, anxiety, and associated depression
Stress, depression and anxiety – These have not been shown to cause or influence the onset of IBS, but may play a role in the persistence and perceived severity of symptoms
Bacterial imbalance – Small intestinal bacterial overgrowth (SIBO) occurs with greater frequency in people who have been diagnosed with IBS. Alterations in gut bacteria may also be responsible.
Altered gastrointestinal motility – Dysfunction in the movement of food particles through the colon and an exaggerated gut response to eating or drinking may also play a major role in IBS. There is an increasing focus on new diet regimes, such as low FODMAP or gluten free diets, which have helped many people with controlling their IBS symptoms.
Genetic and environmental – Some individuals may be predisposed to digestive disorders such as IBS.
Antibiotic use also appears to increase the risk of developing IBS.
IBS treatments
Treatment of IBS is carried out to improve symptoms and can be very effective. This may include dietary changes, medication, probiotics, and counseling. Dietary measures include increasing soluble fiber intake, or a diet low in fermentable oligosaccharides, disaccharides, monosaccharides, and polyols (FODMAPs). The "low FODMAP" diet is meant for short to medium term use and is not intended as a life-long therapy.
Your physician will likely engage in a detailed discussion about your dietary choices to identify any potential triggers for your symptoms that ought to be avoided. They might propose incorporating fiber supplements into your routine, along with regular physical activities like walking or yoga, as well as effective strategies for tackling life's stressors (including ensuring you get sufficient sleep).
If these measures fail to effectively manage your symptoms, they may opt to prescribe medications. Possible options include anti-spasmodics to alleviate abdominal pain and cramps, gut-specific antibiotics to address diarrhea, and antidepressants for the treatment of anxiety or depression. There are various medications available that specifically target the treatment of IBS-C and IBS-D.
In addition, your doctor might recommend seeking the expertise of a specialist in cognitive behavioral therapy, which can be beneficial in stress management and coping with IBS symptoms.
References:
"Definition and Facts for Irritable Bowel Syndrome". NIDDKD. February 23, 2015.
Chey WD, Kurlander J, Eswaran S (March 2015). "Irritable bowel syndrome: a clinical review". JAMA.
Whitehead WE, Palsson O, Jones KR (April 2002). "Systematic review of the comorbidity of irritable bowel syndrome with other disorders: what are the causes and implications?". Gastroenterology.
Brenner DM, Moeller MJ, Chey WD, Schoenfeld PS (April 2009). "The utility of probiotics in the treatment of irritable bowel syndrome: a systematic review". The American Journal of Gastroenterology.
Drossman DA (February 2016). "Functional Gastrointestinal Disorders: History, Pathophysiology, Clinical Features and Rome IV".
Hou JK, Lee D, Lewis J (October 2014). "Diet and inflammatory bowel disease: review of patient-targeted recommendations". Clinical Gastroenterology and Hepatology (Review).