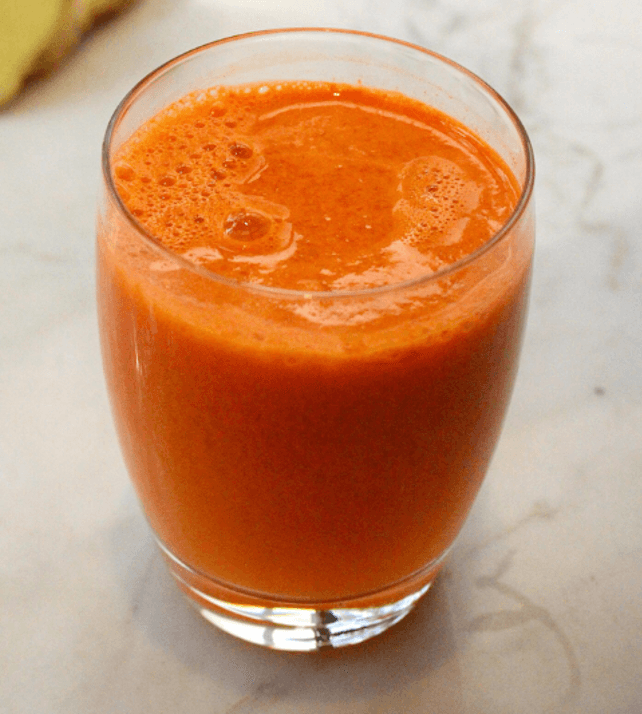 – IBS, SIBO and low FODMAP friendly (no garlic, onion or other high FODMAPs)
– No artificial ingredients
– Allergens: No dairy, nuts, soy, shellfish, eggs
– Low sodium
All our recipes use fresh ingredients, no artificial flavoring and we limit the use of off-the-shelf sauces or spice mixes. If opting for a pre-made sauce or spice mix, make sure to read the label and understand all the ingredients. Check out our other popular recipes here.
Carrot juice with ginger is a healthy and nutritious beverage that can provide numerous health benefits. The high levels of antioxidants and vitamin C in carrot juice with ginger can help boost the immune system and protect against infections and illnesses. Carrots are a great source of vitamins and minerals, including vitamin A, vitamin K, potassium, and folate.
Ginger is rich in antioxidants and anti-inflammatory compounds. Ginger has also been shown to help reduce bloating, nausea, and other digestive issues. Ginger has anti-inflammatory properties that can help reduce inflammation in the body. Drinking carrot juice with ginger can be a good way to help promote healthy digestion and soothe gastrointestinal problems.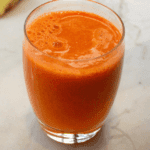 Print Recipe
Carrot juice with ginger
Nutritious carrot juice for eye health, skin benefits and immunity boost
Ingredients
4-5

medium-sized carrots, peeled and chopped

1

inch

piece of ginger

peeled and grated

1

cup

water

honey or lemon juice

optional
Instructions
Wash and peel the carrots. Chop them into small pieces.

Peel the ginger and grate it using a grater or a zester.

Add the chopped carrots, grated ginger, and 1 cup of water to a blender. Blend until smooth.

Strain the mixture through a fine mesh strainer or cheesecloth to remove any pulp or chunks.

If desired, add honey or lemon juice to taste. Serve chilled.
Notes
Nutrition: Carbohydrates:19g; Protein:2g; Fat:2g; Saturated Fat:0.8g; Cholesterol: 0mg; Sodium:65mg; Fiber:4g
The Candor website is written and produced for informational purposes only. While we do our best to provide nutritional information as a general guideline to our readers, we are not certified nutritionists, and the values provided should be considered estimates. Factors such as brands purchased, natural variations in fresh ingredients, etc. will change the nutritional information in any recipe. Various online calculators also provide different results, depending on their sources. To obtain accurate nutritional information for a recipe, use your preferred nutrition calculator to determine nutritional information with the actual ingredients and quantities used.