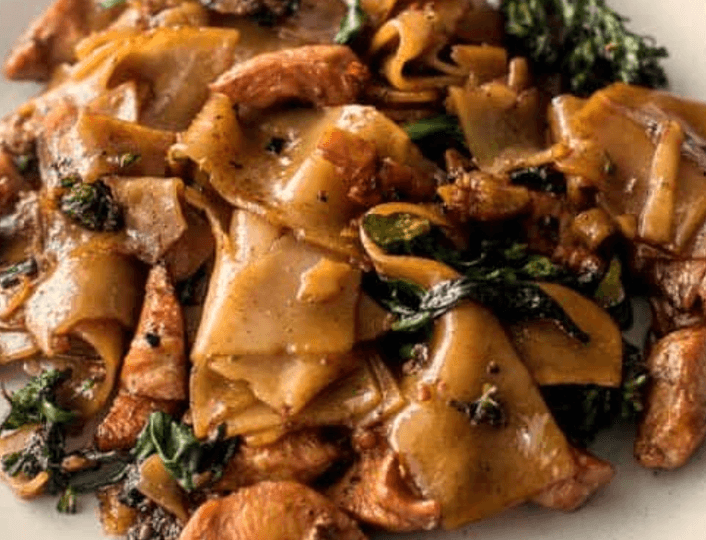 This super easy Thai stir-fry noodles recipe is a quick flavorful option that can be easily customized for various diets (low FODMAP, gluten-free, vegan). The name "Pad See Ew" translates to "stir-fried soy sauce noodles" in Thai. The dish typically consists of wide, flat rice noodles that are stir-fried with various ingredients, including vegetables, protein (such as chicken, beef, shrimp, or tofu), eggs, and a savory sauce. The sauce is a combination of soy sauce, oyster sauce, and other seasonings, which gives the dish its rich and flavorful taste.
Pad See Ew is known for its slightly sweet and salty flavor profile. The dish is commonly garnished with green onions and sometimes served with a side of chili flakes or vinegar-soaked chili peppers for those who prefer extra heat.
– No artificial ingredients
– Allergens: No shellfish, dairy, nuts, soy, eggs
– Low sodium
– IBS, SIBO and low FODMAP friendly (no garlic, onion or other high FODMAPs)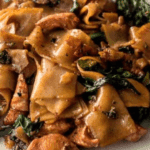 Print Recipe
Pad See Ew
Super easy recipe for popular Thai stir-fried noodle dish
Ingredients
For the sauce:
3

tablespoons

soy sauce or tamari

use gluten-free if needed

2

tablespoons

rice vinegar

1

tablespoon

brown sugar or maple syrup

use a low FODMAP sweetener if preferred

1

tablespoon

oyster sauce

look for a gluten-free and low FODMAP option, if available
For the stir-fry:
8

ounces

rice noodles

flat, wide rice noodles work best

2

tablespoons

garlic-infused olive oil

or use plain olive oil if you can tolerate garlic

2

large eggs

beaten

1

cup

firm tofu

diced (optional, use firm tofu if low FODMAP preferred)

1

cup

carrots

thinly sliced

1

cup

bok choy

chopped

1

tablespoon

green onion tops

green parts only, thinly sliced
Instructions
Prepare the sauce by combining the soy sauce, rice vinegar, brown sugar (or low FODMAP sweetener) and oyster sauce in a bowl. Mix well and set aside.

Cook the rice noodles according to the package instructions. Drain and rinse with cold water to prevent sticking. Set aside.

In a large wok or skillet, heat the garlic-infused olive oil over medium heat. If using plain olive oil, you can add a garlic-infused oil to the sauce for extra flavor.

If using tofu, add the diced tofu to the pan and cook until lightly browned. Remove the tofu from the pan and set aside.

Pour the beaten eggs into the pan and scramble them until cooked through. Push the cooked eggs to one side of the pan.

Add the sliced carrots and cook for a few minutes until they begin to soften.

Add the chopped bok choy to the pan and cook until wilted.

Now, add the cooked rice noodles and the prepared sauce to the pan. Toss everything together until the noodles are coated with the sauce and heated through. Gently distribute the sauce and allow the noodle edges to caramelize by tossing only a few times, approximately 1 to 1 1/2 minutes.

If using tofu, add it back to the pan and gently mix it with the other ingredients.
Notes
Nutrition: Carbohydrates:72g; Protein:15g; Fat:8g; Saturated Fat:1g; Cholesterol:85mg; Sodium:356mg; Fiber:1.2g